By Barbara Ho
When Erin Giglia and Laurie Rowen founded Montage Legal Group a decade ago  –  working from home while raising their babies and toddlers – I wonder whether they realized the unique niche they were creating in the legal market.
Now, headquartered in Orange County, California with a national presence of freelance attorneys in nearly every major U.S. city, Montage Legal Group has formed hundreds of successful partnerships between freelance attorneys and law firm clients.  That is why I was so excited to join this amazing network as the first freelance lawyer with a Hawaii license.
As the gateway between the mainland United States and Asia, Hawaii law firms often face difficulties finding top legal talent to support their rapidly-growing and increasingly-sophisticated clientele.  That is why temporary freelance attorneys are an attractive model both in terms of cost and demand.  But, as always, firms must consider the ethical issues when working with freelance attorneys.  How are conflicts of interest managed? Can a firm add a surcharge to the temporary attorney's rate?  Must a firm disclose the relationship to its clients?
Law firms in Hawaii will find the article authored by Erin, Laurie and me helpful when deciding whether and how to form a relationship with a temporary attorney – whether she is licensed in Hawaii or another state, whether for a single project or long-term litigation.  The article is based on the Hawaii Rules of Professional Conduct ("HRPC") and guidance from the Hawaii State Judiciary's Office of Disciplinary Counsel and was published in the November 2018 issue of the Hawaii Bar Journal.
The article answers the following questions:
How should a law firm manage conflicts of interest when outsourcing legal work to a freelance attorney?

Does the use of freelance attorneys who are not members of the State Bar of Hawaii violate ethical rules prohibiting aiding and abetting in the unlawful practice of law?

Does a law firm violate ethical rules if it uses an inexperienced contract attorney?

Is a law firm required to disclose to its clients that it is using a freelance attorney for a legal project?

Can a law firm add a surcharge to the freelance attorney's hourly rate?

Can a law firm disclose its client's confidential information to a freelance attorney?

Can a law firm pay a company an hourly rate for the work performed by a freelance attorney associated with the company?

Do freelance attorneys need to carry their own malpractice insurance?
We believe Hawaii law firms will find this article to be a useful resource as they consider creative, cost-efficient ways to maximize their practice in these evolving times.  Montage Legal Group and its talented team of freelance attorneys stand ready to assist every step of the way.
Contract Lawyering: Ethics of an Evolving Paradigm (November, 2018 – Hawaii Bar Journal)
As business practices and technology rapidly evolve, attorneys must recognize and take advantage of new monetizing models to help their firms stay relevant, competitive and efficient. One such model is the contract attorney paradigm – also referred to as the "freelance" attorney. Increasingly, firms of all sizes are utilizing freelance attorneys to maximize efficiency and provide economic value to the firm and its clients.
Consider the fictitious "ABC Hawaii Law Firm" – a small to mid-size law firm, or a solo practitioner. One of its clients suddenly needs representation on an urgent matter demanding a significant uptick in attorney time and resources. Or the firm would like to accept a new client, but is unsure whether it can meet the potential client's needs without hiring additional associates and incurring long-term costs.
Enter the freelance attorney.
-To read more, please see the Hawaii Bar Journal's November issue, Contract Lawyering: Ethics of an Evolving Paradigm, by Barbara Ho, Laurie Rowen and Erin Giglia.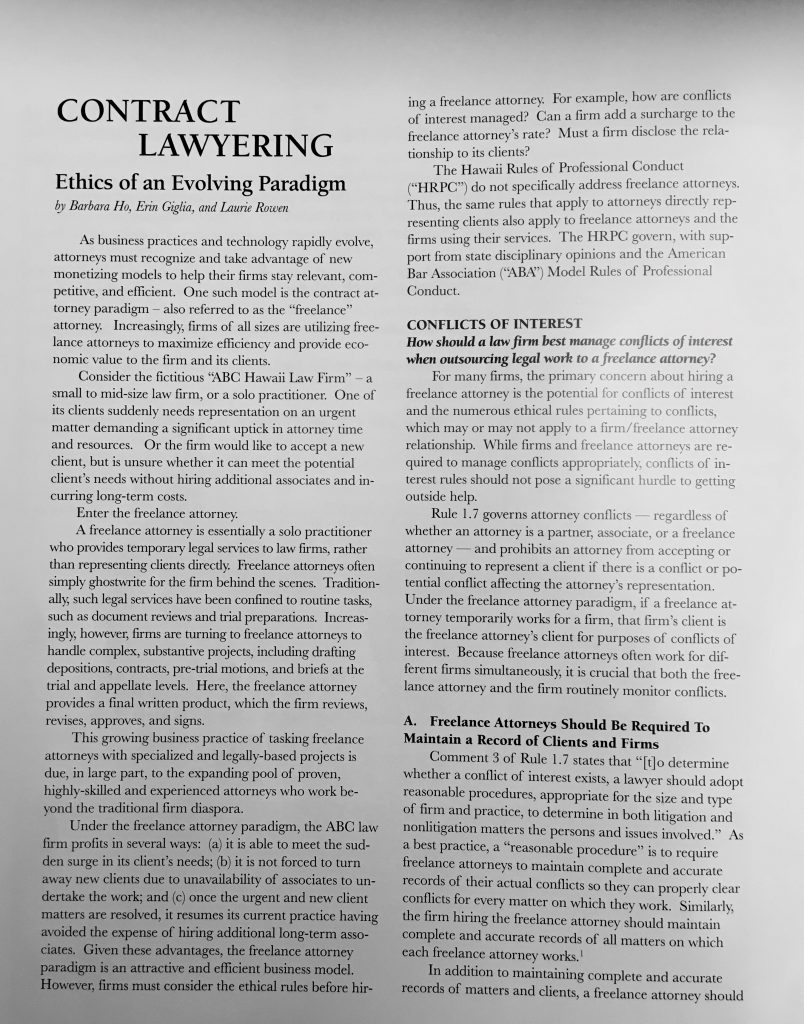 Barbara Ho
Barbara Ho focuses her litigation practice on products liability and pharmaceutical matters with experience in government contracts, environmental cases, and white-collar criminal investigations.
Barbara graduated from the University of Southern California in 1994 where she majored in broadcast journalism and political science.  She received her Juris Doctor from the George Washington University Law School in 2002.
Upon graduation, Barbara joined Spriggs & Hollingsworth, nka Holllingsworth LLP, in Washington D.C. where she focused on products liability, pharmaceutical and environmental litigation.  As an associate, Barbara was part of a litigation team that defended a global pharmaceutical client in a multi-million dollar, months-long products liability trial. She also deposed plaintiffs and physicians in multi-district serial litigation, prepared expert witnesses for deposition and trial testimonies in national serial litigation, organized document reviews in a complex environmental wastewater case, and drafted memoranda and pre-trial motions in government contracts, toxic torts, products liability and class action litigation.
Barbara currently works in Honolulu, Hawaii drafting accreditation policies for the state's law enforcement divisions.  As a freelance attorney in Hawaii, Barbara has drafted motions and memoranda in a corporate environmental case on behalf of a Fortune 200 company and other corporate clients and advised on labor, real estate, white-collar and family law cases.
Prior to a career in law, Barbara worked as a television news reporter in Honolulu, Hawaii and for CNN in Washington D.C.
Barbara affiliated with Montage Legal Group's freelance attorney network in 2016. She is the first Hawaii attorney to affiliate with Montage and looks forward to introducing the company to Hawaii's diverse and dynamic legal community.  Barbara believes Montage is perfectly suited to offer efficient solutions to the state's many small and mid-size law firms.  She is admitted to practice law in Hawaii, Maryland and Washington D.C.