We had a great turnout at the OCBA Mommy Esquire networking playdate at Cypress Community Park on March 10th.  This was Mommy Esquire's 3rd playdate since the committee formed in 2012.  We were so excited to have Cinderella, Snow White and Spiderman from Princess Katie's Fairytale Birthdays entertain the children, giving their parents a chance to network.  Below are some highlights from the event.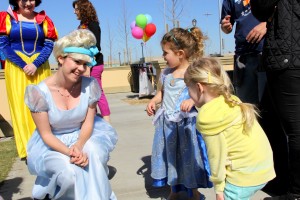 The children loved the balloon animals, games and face painting.
 Everyone had fun playing at the park!
The kids loved taking pictures with the princesses and superheros!
View the video below with additional photos and highlights.

Princess Katie's Fairytale Birthdays
Princess Katie's Fairytale Birthdays strives to facilitate an environment of creativity, community, and positive interaction. According to the owner Katie, "What I love is that in dressing up as fairytale/comic book characters, we instantly have a connection with the children – they know who we are, and they know our story.  It is this channel that allows us to interact with them on a level that's deeper. We woo them into an attitude of creative learning and play, and in the process, hope to influence them positively as role-models."  Princess Katie's Fairytale Birthdays talks to the children, engages them in conversation, plays make-believe with them, and believes in what they care about.   For more information about Princess Katie's Fairytale Birthdays, please visit her Facebook page or website at www.facebook.com/PrincessKatieCo and www.PrincessKatieCo.com.