By Laurie Rowen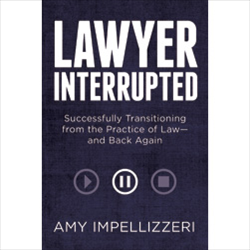 We are thrilled that there is an excellent new book on the market featuring lawyers who "interrupted" their career paths to explore their dreams and interests, or to disrupt the legal industry….and it references Montage Legal Group!
Following a thirteen year corporate law career, including nearly a decade at Skadden Arps, Amy Impellizzeri joined the executive team of Hybrid Her, recognized in 2010 and 2011 by ForbesWoman as one of the "Top 100 Websites for Women." After nearly four years as a start-up executive, Amy transitioned to full-time writer in 2014, and is the award-winning author of Lemongrass Hope (Wyatt-MacKenzie 2014) and the highly anticipated Lawyer Interrupted (ABA Publishing 2015) – available in retail outlets for the first time this week.
Amy's essays and articles have appeared in numerous online and print journals, including The Huffington Post, The Glass Hammer, Divine Caroline, and ABA's Law Practice Today.
Lawyer Interrupted, featuring insight and advice from interrupted lawyers including international lego brick artist, Nathan Sawaya; celebrity jewelry designer, Jill Donovan; and our very own co-founder, Erin Giglia, is the synthesis of years of research and interviews with scores of lawyers transitioning to new careers.
Lawyer Interrupted has been featured on ABC27, TheAtlantic.com, and Above The Law, and many other publications. "The book is a must read for anyone considering taking time off from law, be it three months or forever," Conscious Uncoupling . . . With Your Law Firm, Leigh Abramson for Above the Law.  Liz Brown, Harvard-trained former law partner and author of Life After Law, has said: "If I could, I would give every lawyer in the United States a copy of Lawyer Interrupted."
We have been so impressed with Amy, her dedication, and her work.  We are honored to be included in her newest book, Lawyer Interrupted.  We wish Amy continued success!
Buy your copy of Lawyer Interrupted here.
Amy Impellizzeri
Amy Impellizzeri is a reformed corporate litigator, former start-up exec, and award-winning author. After spending a decade at one of the top law firms in the country, Amy left to advocate for working women, eventually landing at a VC-backed start-up company, Hybrid Her (named by ForbesWoman as a top website for women in 2010 and 2011), while writing her first novel, LEMONGRASS HOPE (Wyatt-MacKenzie 2014), named a 2014 INDIEFAB Book of the Year Bronze Winner (Romance).   Amy's first non-fiction book, LAWYER INTERRUPTED, was published by the American Bar Association in May 2015, and is available exclusively through ABA Publishing until 2016.  Amy is a Tall Poppy Writer, a member of the Women's Fiction Writers Association, and a contributor to She is Fierce! and Women Writers, Women's Books. Amy's essays and articles have appeared in The Huffington Post, The Glass Hammer, Divine Caroline, ABA's Law Practice Today, and Skirt! Magazine, among more.