We have learned many things running Montage Legal Group, including that no two lawyers are alike, and that lawyers choose to freelance for extremely diverse reasons. Montage's freelance attorneys often wear many "hats" in both their personal and professional lives.  Zeina Jafar is no exception.  In addition to her role as a freelance attorney with Montage Legal Group, Zeina is a mother of two boys (expecting her 3rd child in January), a military wife, a former model and beauty queen, an immigrant, a business owner, a fitness and nutrition enthusiast, a fashion junkie…and is now an author!
Her book, Haute Mama, represents a unique lifestyle that redefines motherhood and defies mommy norms.  It targets organic moms, fancy moms, career moms, fit moms, military moms, fashionable moms, and moms that are simply trying to stay afloat and make it work. It also provides great insight for significant others struggling to adjust to parenting life. The book is intended to be used as a quick and condensed resource guide on how to adjust to life with your new baby and balance it all with elegance. This book raises the bar, fills the gap, and leaps over any similar books in this genre.
Zeina was recently featured in the November issue of Modern Luxury Magazine, and below is an interview.   For more information on Haute Mama, see http://hautemamabook.com/.
Modern Luxury Magazine Interview
-Tell us about your background – where you're from originally, where you currently reside in Orange County, [and] your educational background.
I attended the University of California, Irvine, where I was awarded the Outstanding Freshman Award and graduated in three years, earning a Bachelor of Science in Biology.  I received my Juris Doctor from Southwestern University School of Law where I was named on the Dean's list for earning a top 10% grade point average, was a member of the Moot Court Honors Program and received first place in the National Telecommunications Moot Court Competition in Washington D.C. In addition, I was awarded the CALI Academic Excellence Award, the highest honor in the State of California, for "Interviewing, Counseling, and Negotiation."
I am blessed to be married to my husband Shawn and for our two little boys, Kaden (4.5) and Kareem (3). Our family is expanding and I am pregnant with baby number three due January! My husband is an attorney at the international law firm Sidley Austin. Prior to joining Sidley Austin, he served as a lawyer in the United States Navy for seven years, and he continues to serve our country as a Lieutenant Commander in the U.S. Navy Reserves. He was by my side when I became a U.S. citizen and has always been my biggest advocate and supporter. Together we have lived in Hawaii, Japan, and now California. We moved from Japan to Orange County four years ago and currently reside in Coto de Caza.
-Take us through your career trajectory – what were you doing before you decided to pen Haute Mama?
I am an attorney licensed in California and Hawaii, and have been practicing since 2007. With a decade of litigation and transactional experience, I founded my own law firm two years ago, the Collins Firm, to provide affordable, reliable, and efficient legal services to small businesses and start-ups in the State of California. My office, located in Newport Beach, also handles various civil litigation matters in state and federal court. In addition to my law firm, I work as a freelance attorney for the Montage Legal Group, where I serve as independent, outside counsel to law firms and business clients on litigation and transactional matters. Prior to moving to California, I commuted from Japan to Hawaii, where I held a senior litigation and appeals position at a prominent Hawaii firm.
Our oldest son was actually born in Hawaii, but spent the first 7 months of his life in Japan. I am admitted to practice law in the United States Court of Appeals for the Ninth Circuit, where I recently secured a reversal from the Court in my client's favor. I am also admitted to practice law in the United States District Court, Central District of California, the State Courts of California, the United States District Court of Hawaii, and the State Courts of Hawaii. While in law school, I worked as an in-house attorney at Fox Cable Networks/Fox Sports, Warner Brothers Entertainment Inc., as well as at the entertainment law firm Lavely and Singer. Shortly after graduating from law school, I worked for Leigh Steinberg Sports and Entertainment, before taking a position as Assistant General Counsel for an international solar power company that was headquartered in Hawaii.
-Tell us about Haute Mama- how it came about, its mission, what you hope readers will take away – can you also provide an estimated release date?
It all began with my dichotomic choice of motherhood versus career. It's the quintessential battle so many women in the twentieth and twenty-first centuries have waged. Balancing a career with unavoidable societal "obligations" to take care of the home, husband, and to bear and raise children. Seventy percent of mothers today have a career, compared to only thirty percent fifty years ago. Domestic responsibilities, such as assuming primary responsibility of the home, managing and executing household chores, meal preparation, and maintaining their relationships with family, friends, children, and significant others can be overwhelming when you have a job, newborn, and toddler running around. Having not found any relevant or impactful books on parenting when I first became pregnant, I decided to take my personal experiences and put them to use in a modern day no-nonsense guide on balancing motherhood, love, a career, health and happiness with style and grace.
My book is entitled Haute Mama and represents the modern, globalized, power house mamas (whether stay-at-home, part-time, or full-time career moms) who are doing it all and making it look effortless and chic. The book has a good balance of realism and optimism with a splash of humor. It is uplifting, confidence building, and filled with just the right information. My personal stories add a layer of depth and meaning to all the information. I lead the reader in a how to and what to expect format. Haute Mama appeals to more than just females. It provides great insight for significant others struggling to evolve cohesively with the new mom. My male readers have found the book very interesting and captivating.
I have been very fortunate in my life to experience several different perspectives of being a mother. I have been a full-time working mother, the sole breadwinner of the family, a stay-at-home full-time mother (wow this was hard!), a working-from-home mother, a working and traveling mother, a military mother, and now a part-time working mother. My experiences and diverse background allow me to provide a comprehensive guide for new parents. With information on how to train your baby to sleep on their own, to how much milk they need, Haute Mama strives to provide the basic need-to-know building blocks for fostering confidence in your new role as a parent without all the superfluous stuff. The information in my book goes beyond Lamaze class and addresses the breakdowns in the romantic relationship with your significant other, the personal relationship you have with yourself, your health, fitness regime, and appearance. Put simply, this book is designed to empower you with the knowledge you need to make the rocky transition to parenthood more smooth and enjoyable. Haute Mama is intended to be used as a quick and condensed resource guide on how to operate your new baby and balance it all with style and grace. This book raises the bar, fills the gap, and leaps over any similar books in this genre.
The anticipated release date for Haute Mama is tentatively set for Summer 2018.
-Tell us about your current charity work (how you became involved, how much you've raised, how long you've been involved, what it means to you).
Throughout my legal career, I have served as the Director of the Hawaii State Bar Association's Young Lawyer's Division, a Board Member on United Way's Crime and Drug Impact Council, and as a volunteer for the General Relief Advocacy Project on skid row in Los Angeles, the Court Appointed Special Advocates, and the Alliance for Children's Rights, among others.
Currently, I am on the Board of Directors for the Glass Slipper Guild for CHOC Children's Hospital. CHOC Children's is the only private, not-for-profit hospital in Orange County devoted exclusively to the health and well-being of children, regardless of their family's ability to pay. The Glass Slipper Guild is one of the largest fundraising arms of CHOC Children's comprised completely of volunteers, many of whom are mothers, approximately 100 philanthropic women of Coastal Orange County with a common purpose of supporting the work of CHOC Children's. I was inspired to join after losing several family members to cancer and after being blessed with my own children. Our guild works passionately to ensure community awareness, involvement, and fundraising.
-Tell us about any news that's especially timely for November/the winter season.  Any charity events? Other endeavors?
The Glass Slipper Guild for CHOC Children's hosts several events throughout the year. Our biggest fundraiser of the year is our much-anticipated and consistently sold-out annual Gala. The Gala this year will be hosted on April 28, 2018, at Paséa Hotel and Spa in Huntington Beach and will help us complete our $1,000,000 pledge for the CHOC Hyundai Cancer Institute and to the Complementary Integrative Medicine Program. Our galas in the past have raised $450,000 and our Annual Regatta nearly $50,000. The Regatta this year will be held on November 4th and 5th at the Balboa Yacht Club and will honor the lives of incredible children, families, physicians and staff of CHOC Children's.
– Why do you think O.C. women will identify with Haute Mama?
Orange County is a very unique place in that we are surrounded by glamorous, inspirational women. Haute Mama is perfectly suited for this demographic because it speaks to the effortless and chic OC moms. As if balancing a career and baby aren't enough, our lives are magnified under the high powered microscope of social media, where there are an endless number of critics eagerly waiting to comment on the manner in which we parent. With rules like "do not say no," "do not discipline," "tell them you love them, but not too much," and more, being a parent can be incredibly tough in this day and age. We have to create a loving environment that is egalitarian yet authoritative. We have to ensure our children's emotional, psychological, nutritional and social needs are met without over-stimulating or under-stimulating them. These factors make for a rocky transition to parenting and can severely strain your relationship with your significant other.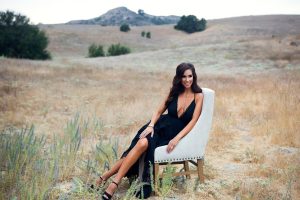 Other books in this genre can be overwhelming, outdated, or written from a perspective not entirely relevant to your own. I realized that these books were not resonating with my lifestyle. I could not find books written by modern mamas striving for balance in all facets of their lives. I remember being terrified about not having a child-rearing manual that I could memorize and apply once my baby arrived. We have to study and take an exam before we may operate a car, yet we are handed a baby in the delivery room and sent on our way without so much as a pamphlet or cheat sheet. Moreover, present day parenting is not what it used to be. For starters, our generation has naturally shifted from full-time motherhood to balancing a career and baby. Additionally, the globalized nature of today's workforce means that parents are less likely to live close to extended families. This means our relatives are not readily available to give us a couple of hours off.
Put simply, Haute Mama is not just a book, it is a brand; a unique lifestyle that redefines motherhood and defies mommy norms. OC moms can follow along @HauteMamaBook on Instagram where I provide weekly health, fitness, lifestyle, and mommy tips. This book will take the mommy/lifestyle/parenting world by storm. Haute Mama is for everyone; it is not just for fancy moms, but rather for all types of mothers, fathers, and soon-to-be parents. It targets organic moms, fit moms, military moms, career moms, fashionable moms, and moms that are simply trying to stay afloat and make it work.
– What do you love most about Orange County? Where would we find you out and about in O.C. – favorite shopping, restaurants?
What I love most about Orange County is the sense of community. As I mentioned above, my family was forced to flee our home in Beirut, Lebanon because of the civil war, and Orange County welcomed my family with open arms. So even though I wasn't born here, it's home, and my husband and I cannot think of a better place to raise our children.
As far as where you can find me out and about in the OC, you can find me most weekends playing a variety of sports with my family, which includes golf, tennis, basketball, and soccer. This list will probably continue to expand since my sons have yet to meet a sport that they don't like. You can also typically find us at one of Orange County's beautiful beaches. Our personal favorites are Laguna Beach, Salt Creek beach, and Crystal Cove beach. I am obsessed with fashion, so I make regular visits to Fashion Island! Currently, I spend a good deal of my time making sure my youngest son does not fall into the koi pond at Fashion Island. My husband and I love our date nights, so you can find us during our no-kid time at Sota Sushi in CDM, Broadway in Laguna Beach, Café Gratitude in Newport Beach, or Mastro's on Newport Coast.
-[Please tell us] anything we haven't asked that you may want us to include!
Just a few fun facts:  I am a mother, wife, attorney, former model and beauty queen, business owner, fitness and nutrition enthusiast, and a fashion junkie. I used to teach belly dancing at UCI and have sung our National Anthem at various ceremonies and sporting events including at Pearl Harbor, aboard the USS Missouri Battleship, the Shrine Auditorium, the Bren Events Center, and many more.