Happy 2020! As we enter into a new decade – and our eleventh year as a company – we are still so grateful to provide a platform for freelance lawyers to practice law on their own terms, and to provide law firms with the on-demand legal help they need to grow their firms.
While our freelance attorney number have over the past decade, we are also excited to report that we now have three employees who help run the business side of Montage: a Director of Operations, a Director of Administration and a Director of Finance.  We are so excited to see what's in store for Montage in 2020, and we wish all of our freelance lawyers, law firm clients and friend a happy and prosperous new year!
Meet Our Team
Director of Operations
Brandi Hamer is an experienced litigator with a focus on labor and employment law. Brandi has handled all aspects of litigation from depositions, dispositive motions, pre-trial discovery to trial preparation.
Brandi graduated magna cum laude from the University of California at Los Angeles in 1994, and is a member of Phi Beta Kappa. She obtained her law degree from the University of Southern California in 1997, where she excelled in the Moot Court Honors Program.
After law school, Brandi worked in an insurance defense firm where she quickly gained deposition and law and motion experience. She then joined Kirkpatrick & Lockhart (now K&L Gates) where she further honed her litigation skills. Brandi worked on matters from securities fraud, business disputes to labor and employment matters. She also served on the firm's Hiring Committee.
Brandi later joined the Labor & Employment department at Munger, Tolles & Olson LLP. At Munger Tolles, she worked on several wage and hour disputes, prepared dispositive motions, conducted multi-state research on complex areas of employment law, and advised Fortune 500 companies on potential liabilities.
She has also worked as a Human Resources consultant.  Brandi joined Montage's team in 2019 as Montage's Director of Operations and Recruiting. Brandi handles project coordination, recruiting, and screening interview calls with lawyers seeking to join Montage's platform. Brandi can be reached at [email protected].
Director of Finance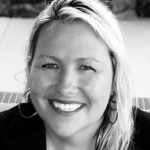 Jennifer Barnes graduated from California State University-Fullerton with a Bachelor's in Business/Accounting. While at CSUF, Jennifer was invited to join the honors society, Beta Alpha Psi (Delta Beta Chapter), and became a member of the Accounting Society at CSUF.
After college, Jennifer was recruited and hired by the top tier accounting firm RSM US, LLP (formerly known as McGladrey).  While working with RSM, Jennifer performed financial statement audits for large publicly-held companies in technology and manufacturing, such as Epicor, Autobytel, Maxwell, and Lantronix. She also assisted publicly-held clients with Sarbanes-Oxley Act 2002 (SOX) implementation, reduction of controls, and controls testing.
RSM led her to a very successful Assistant Vice President position at Bank of America, where she managed the SOX, Financial Statement Audit (FAR) and SOC 1 report (AT-801/SSAE 16) portfolio, under Default Servicing. Her efforts in control rationalization resulted in reduced controls/testing, which resulted in lower audit fees and lower fees for the company. She is a six-time awarded employee with gold, silver, and bronze awards, along with the Presidential Volunteer Award.
Jennifer is the proud mother of twin boys, which keep her very busy. She is also step-mother to older twin boys that are grown and thriving in their own tech careers. In her spare time, she loves to volunteer at Our Father's Table, an organization focused on aiding the homeless, which has lifted over 170 people into permanent housing. Additionally, Jennifer and her son cook at Orange County Rescue Mission/Village of Hope, once a month for the last 8 years, giving homeless families a hot meal.
Jennifer joined Montage's teams in 2019 as Montage's Director of Finance.  She handles invoicing/billing, bookkeeping and accounting tasks for Montage. Jennifer Barnes can be reached at [email protected].
Director of Administration
Erin was a stay-at-home mom and avid volunteer while she helped her husband launch his I/T consulting business and focused on raising their 3 amazing kids who are now teenagers.  Erin graduated with honors from UCSD's Revelle College where she was a lacrosse player and member of Alpha Kappa Psi business fraternity.  She then earned her MBA from University of Redland's Whitehead College while working as Western Regional Manager for AT&T Wireless' resale division.
Erin's prior work experience includes fundraising, event planning, marketing and sales.  Her experience has proved to be valuable in her professional career as well as in her numerous volunteer endeavors such as PTA, Girl Scouts, Lion's Heart, soccer clubs, and church activities. Erin has also been a contributing author for the Examiner and CBS Los Angeles, among other news outlets and websites.
Erin loves traveling and has been to over 35 countries on 5 continents. She has had the opportunity to experience life-changing mission trips with both of her daughters while traveling to Rwanda and Argentina. Some of her favorite places to visit are Nepal, Rwanda, Greece, and France.
Erin joined Montage's teams in 2016 as Montage's Director of Administration.  Erin handles scheduling interviews with freelancers seeking to join Montage's platform, contract processing, marketing and other administrative tasks.  Erin Johnson can be reached at [email protected].