By Erin Giglia
We love stories about bright, entrepreneurial women following their dreams, but we love meeting them in person even more. We were so happy to meet Morgan McKean, a Lifestyle Expert, Mentor and author. Her energy is simply infectious! We knew right away that our readers would love meeting her too, and can all benefit from her book, "Becoming Princess Charming." Morgan agreed to an interview to tell us all about her business, her philosophy, and how we can learn from her success.
Thanks again for agreeing to speak with us Morgan! Please tell us a little bit about your background, and why you decided to become an author.
Thank you for having me.
Well to start, I was born an Intuitive, meaning I receive certain knowledge through insights, feelings, and images, and first dipped my toe into spirituality and the human potential movement at age six. And, while I felt fairly early on that I was suppose to use my gifts and understandings to help people, as you can probably imagine, as a child, most people weren't going to take me very seriously. Additionally, there were no clear career paths known to me at the time, to pursue using them.
Accordingly, I decided that in order to have people respect me, and listen to what I had to say, I would need to go out and get a lot more worldly experience. I also became aware during my adolescence, right around the time I wanted boys to start liking me that, while I understood many theories, beliefs, and techniques for achieving your desired results intuitively, I hadn't yet had enough personal experiences with human-frailties like feeling unworthy, insecurity, failure, judgement, rejection, or even something as common as mood swings.
The other thing that my then perspective didn't allow for was understanding that as children, we often manifest our ideas with ease, as most of us depended greatly on our caregivers, and those in our community, to help us achieve our goals. However, as adults, once life has thrown us a curve ball or two, it can be a bit more challenging to believe that we're worthy of our dreams. And, I needed to understand this type of belief-system or consciousness, in order to help others better navigate their reality.
Hence, after experiencing a few more cycles around the sun, we don't need to say how many, I knew I had enough life experience to mentor others on how to become conscious creators of their reality. And, after working with several clients, and finding my "voice," I felt it was time to put pen to paper, so to speak, and what came out was "Becoming Princess Charming :: Creating the Magical Mindset for Your Happily Ever After."
We are all very excited to read "Becoming Princess Charming :: Creating the Magical Mindset for Your Happily Ever After." What can we expect from this book?
The most common response I receive about "Becoming Princess Charming" is that it's such a fun and engaging read, as my communication style is a combination of Carrie Bradshaw (Sex in the City) meets Dr. Wayne Dyer (Father of Motivation). And, the reason I take this approach, outside of having an on-going love affair with glamour, the media, and spirituality is that people frequently share with me that self-help or new age books are too "heavy" to read, and I wanted to prove that self-help can be fun and fabulous… and not so boring.
Accordingly, in this book, I take readers on a journey of self-discovery, as I pair fantasy, self-confidence building, spirituality, and learning how to become the conscious creator of your reality into six life transforming sessions, or chapters, with me. These session chapters include; Fun, Food, & Fitness, and Men, Money, & Meaning. And in each, there are spiritual insights and real-world understandings, along with exercises and invitations to write your very own happily ever after, as the foundation for creating it in your reality.
How can your book help those looking for more balance between their careers and personal lives?
Everything, yes everything, we experience in our physical reality serves as a reflection of the sum total of our thoughts, ideas, and beliefs. Meaning, the quality of ideas that you generate in your thought-stream is based on what you believe is possible for you, and the world around you. And, to the degree that you focus on these ideas, they become manifest in your life experience. Accordingly, you can not manifest or experience something without believing in the possibility of it first.
In "Becoming Princess Charming," I show readers how to first decide who it is they want to be, for example – Being a successful lawyer who enjoys or is committed to experiencing work/life balance. – then generating thoughts, ideas, and then subsequent beliefs from this more elevated perspective, or version of yourself, that better reflects their lives the way they want them to be.
It's no secret that female lawyers deal with a lot of stress on a daily basis. As a spiritual mentor, what advice do you have for these women?
One of first steps to taking your power back when feeling "stressed," or any other negative-emotion, is to is to have a better understanding as to how your emotions serve you. Your emotions are part of an internal feedback system or compass, letting you know whether the thoughts you're thinking are in line, or not, with your deepest desires or ideal vision for your life. Accordingly, when you feel happy, joyful, peaceful, or content, these feelings are present to let you know that what you're thinking about will bring about a positive experience. Conversely, if you feel sad, angry, overwhelmed, or stressed, these are signals letting you know that you're current thought-stream isn't in alignment with how you want an experience to be unfolding.
Hence, the emotion or feeling of stress specifically, is usually an indicator that you are entertaining ideas or a thought-stream that is related to not being able to perform a task, or multiple tasks, up to par, in a certain time frame. To regain your balance, remind yourself that stress is a signal letting you know your thinking about the situation is off track, and that you need to shift your thought-stream towards the highest, or most positive perspective you can have about the situation, until you feel a reduction in stress.
Additionally, feeling overwhelmed, anxiety, and stress, tend to play well together, like second cousins, and when one shows up, the other two aren't usually far behind. So, to avoid them all together, one must commit to showing up more how they want, in their lives. To help clients do this, I give them an exercise called "I'm committed!"
In this exercise, you are invited to write down who you're committed to being, (i.e. A balanced and powerful female attorney that enjoys meaningful success) and then backing that commitment up with action by writing down two to three ways you will demonstrate your commitment that day. The nice thing about this exercise is that it really helps you to identify your values, and what activities you need to make a priority, in order to achieve your desired balance.
To help your readers enjoy this same exercise, they can get a complimentary copy of the exercise worksheet here :: http://goo.gl/uumxNK
If we want to get a copy of your book, where should we look?
The two easiest ways to get the book are through my website or Amazon.com, for which I've included the links below. Additionally, for the first three readers to share their comments about how they would like to "Become Princess Charming," I will send out a free e-copy of the book.
Website :: http://morganmckean.com/shopping
Amazon :: http://goo.gl/H7FDwp
Share your comments on Facebook or Twitter, or email [email protected] for more information.
About Morgan McKean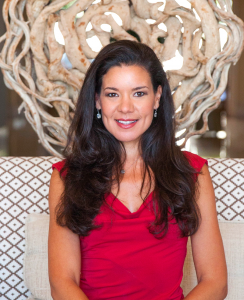 Known to her clients as a "Vitamin B12 Shot" for their dreams, most people refer to Morgan McKean as a Lifestyle Expert, and cherished Intuitive and Transformational mentor. First dipping her toe in the human-potential movement and spirituality at the age of six, with a multi-tiered platform that includes books, talks, workshops, a video show, and online media, Morgan has been using her intuitive gifts, as well as her real-world understandings, to help people become the conscious creators of their reality for almost twenty years.