By Erin Giglia
I finally felt like I had made it in the summer of 2000. I had just accepted my employment offer from Brobeck, Phleger & Harrison, the highest paying law firm in the nation. I was set to join the firm's corporate group, where I would work on exciting mergers and IPOs. I felt relief. I am a first-generation college graduate, and I went to law school in hopes of a career path that would guarantee my ability to support myself and my future family. Brobeck was a cutting-edge law firm and was riding the dot com boom into the legal stratosphere. But by the time I graduated from law school in 2001, that boom was busting. My start date got pushed back a few weeks. There were no corporate deals happening, so I joined the firm's litigation practice group instead. There were whispers and rumors about layoffs. I was a brand new lawyer, and part of me knew that the last one in meant I would be the first one out.
One day a few months later, I was one of about 400 lawyers firmwide who was laid off. I was 25 years old, and I received a three-month severance package. I also had no real legal experience, and almost no connections. I absolutely needed another job, so I reached out to the only connections I had at the time – my law school classmates working in my region. I quickly emailed my law school classmates working at firms in my area, explained my situation, and asked if their firms were hiring. One of my classmates asked for my resume, and she walked it into the firm's partners. I had a job just a few weeks later at Snell & Wilmer, also doing litigation, which was not my original plan. Litigation turned out to be a good fit for me, so I stuck with it for several years until I quit and started Montage Legal Group with my fellow Snell & Wilmer associate, Laurie Rowen.
Twenty years after Brobeck's collapse, on March 23, 2023, I presented on a panel with fellow Brobeck alumni about our experiences shifting careers: How to Survive & Thrive in Times of Recession and Career Crisis.  Panelists included Leslie Daff, owner of Estate Plan, Inc., Vince Verde, partner at Ogletree Deakins, and Mark Servino, Office of County Counsel. Leslie used the dot com bust as an opportunity to transition to estate planning, which was always her dream that was sidetracked by the lure of BigLaw and BigLaw salary. Vince initially planned to be a civil rights lawyer with the ACLU, then started out as a prosecutor in New York, shifted to the private sector, and then ultimately opened the Ogletree Deakins Orange County office. Mark went from BigLaw to Brobeck, and then shifted to water law during the 2002 dot com bust, and ultimately shifted to government and election law as County Counsel for the County of Orange.
The common factor in our stories is that we leaned heavily on our networks, no matter how small, to find opportunities and make career transitions. Your friends are your networks. Your friends want to help you, and they will do their best to try to help you if they know what you need. Social media and electronic communications make it easy to connect with your friends and extended networks for opportunities and mentorship. We have fantastic bar associations and affinity groups. Get involved! Every connection you make is part of your network. Develop friendships, and have fun. Helping others is a big part of networking. Be prepared to be helpful to your connections.
The bad news is that recessions happen. Attorneys experience layoffs and/or must shift practice areas. The good news is that attorneys are smart, capable people with the skills to find answers and learn new things. Opportunities often arrive in unexpected packages. It all turns out fine in the end.
Thank you to Law Works, OCKABA, and the Thurgood Marshall Bar Association for sponsoring!
Erin Giglia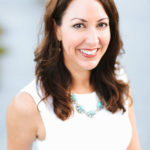 Erin was a litigator at Snell & Wilmer in Orange County, California before co-founding Montage Legal Group in 2009. Montage is a network of freelance attorneys who opted out of the traditional law firm model in favor of career flexibility.
Erin is a frequent writer and speaker on legal outsourcing, work-life balance, women in law, and legal ethics, and has been honored with various awards including OC Metro Magazine's 2011 Top 40 under 40 and Enterprising Women Magazine's 2014 Enterprising Women of the Year Award. Montage Legal Group has been featured in ABA's "Freelance Law: Lawyers' Network Helps These Women Keep a Hand in the Workforce," Forbes.com's "How Two Stay-at-Home Moms Are Changing the Legal Industry," and in "Disruptive Innovation: New Models of Legal Practice" by UC Hastings Work Life Law Center, among other articles.
You can read a recently published article co-written by Erin on how growing firms can take advantage of freelance attorneys and Of Counsel positions: Law Firm Growth During an Uncertain Legal Climate – Part 1: Of Counsel Relationships and Law Firm Growth During an Uncertain Legal Climate – Part 2: How to Ethically Use Freelance Lawyers & Referral Fees, California Lawyers Association, The Practitioner (Summer 2020, Volume 26, Issue 3; Fall 2020, Volume 26, Issue 4).