By Laurie Rowen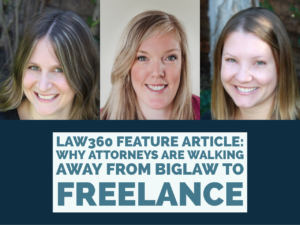 We were so excited to see three of Montage Legal Group's freelance attorneys – Mara Brandes, Jessica Coffin and Michelle Camp – featured in a Law360 article out today: "Why Attorneys Are Walking Away From BigLaw To Freelance" by Michele Gorman.  The article also quotes Montage's co-owner/founder Erin Giglia, and discusses why former BigLaw attorneys quit their jobs to become freelance lawyers.  Gorman highlights the pros and cons of becoming a freelance lawyer, and states "[t]heir motivation was to find a more flexible lifestyle that accommodates family time and the ability to chase their dreams without the time and pressure constraints typical of a traditional legal job."
Both Montage freelancers Michelle Camp and Jessica Coffin have husbands in the military, so they move every couple of years, making it impossible to practice law in a traditional law firm.  Employment for attorneys is limited by state bar licenses, so these California-licensed attorneys would have to take and pass new bar exams each time they are stationed out of state. After taking a bar exam, they would then have to apply for a law firm job and get hired, only to be stationed in a new state within a year or two.
Gorman's article discusses why freelancing is a great option for military spouses, and highlights Michelle Camp's journey from Gibson Dunn & Crutcher to freelancing with Montage:
"With two young children and her husband's looming U.S. Navy deployment, attorney Michelle Camp made a leap that would have been unthinkable just a few years earlier. In 2016, she left her seven-year career at Gibson Dunn & Crutcher LLP with her eye set on freelancing. Camp realized it wasn't feasible for her to have a traditional legal career with small kids at home and ongoing military relocations, which have moved the family from California to Alabama for a year and then to Nebraska, where she currently lives."
Jessica Coffin, who graduated from USC Law and previously practiced at Snell & Wilmer, had to leave the firm after only 3 years when she married her husband who is in the Navy's JAG Corp. In the last nine years, her family has moved six times between Guam, California, Hawaii and Rhode Island.  The only way she could practice law – and use her CA bar license – was to become a freelance lawyer with Montage.
Coffin expects her family will move again in less than two years, either overseas or to Washington, D.C. She finds comfort knowing that she will be able to continue as a freelance lawyer. By her own choice, Coffin works anywhere from five to 20 hours a week mostly in the evenings — writing motions, formulating discovery responses, managing trial calendars and researching judges.

"It's a really nice feeling to know that I can still use my degree and use my brain and contribute to my family, while also moving with my husband and being a stay-at-home mom," she said. "I really feel like I have the best of a lot of worlds right now."
The article also features Montage employment freelance lawyer, Mara Brandes, who has three young children and prefers the flexibility that comes with freelancing:
Brandes, a former Ogletree Deakins Nash Smoak & Stewart PC attorney who has been a freelancer since 2012, said she appreciates working from home and not dealing with tight deadlines, client expectations and the other daily stresses that a lawyer employed at a firm likely experiences. The type of work she completes — writing demand letters and complaints, helping to determine if a matter is worth pursuing, researching — means she's not ultimately responsible for a finished product and doesn't usually communicate directly with firms' clients.

"It's the perfect situation for me because I can do as much or as little as I want and when I want," she said.
The article also discusses some of the challenges of freelancing, including unpredictability, inconsistent work, and collections issues.  The article notes that Montage's co-owner/founder, Erin Giglia, advise lawyers against leaving their full-time positions until they're well established in their legal careers.
"The first advice I give to them is, 'Have you explained to your firm what you need and asked for it?'" [Giglia] said. "'Please go and make sure that you've exhausted that possibility before you quit.'"
Montage has been a resource for freelance attorneys since 2009, and is also a solution for extremely busy law firms who need help with legal projects.  One of Montage's long-time clients, Josh Abel, managing partner of Abel Law Offices PC, described Montage's freelance attorneys as "motivated, confident and competent" who "offer a fresh perspective and enable him to focus on higher level, strategic matters."
We try to be as helpful as possible to as many people as we can.  We love offering flexible work options to freelance attorneys, and connecting outstanding freelance attorney talent to busy law firms. Thank you to Michele Gorman for featuring Montage's freelancers Michelle, Jessica, and Mara, and writing an incredible article highlighting the pros and cons of being a freelance lawyer.